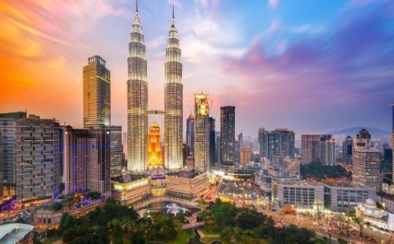 10 Places to visit in Kuala Lumpur, Malaysia
10 Places to visit in Kuala Lumpur, Malaysia
If you are looking for a place to relax, learn more about Asian culture, indulge in some amazing dishes and enjoy some drinks on rooftop bars, you need to visit Kuala Lumpur Malaysia's capital. Malaysia is a beautiful country that hasn't yet been overrun by tourists and has one of the fastest growing economies in the world. This makes the local magic interesting and intriguing at the same time because of the combination of Malay, Indian, and Chinese culture blended together and reflected in Malaysia's history, and landmarks.
GO UP PETRONAS TWIN TOWERS AND KUALA LUMPUR CITY CENTRE PARK
One thing you will recognize is that KLCC or KL is written and used for everything, and as you guessed, it stands for Kuala Lumpur City Center and Kuala Lumpur respectively. It might seem obvious to you, but the first time I saw them, I did not understand what the acronyms were for.
The Petronas Twin Towers are two buildings with 88 floors, which were considered the world's tallest buildings from 1998 to 2004. Their record was then beat by Taipei 101, then the Burj Khalifa in Dubai, which is twice its height. The building name is short for Petroliam Nasional Bhd, the local petroleum corporation, which has added to its portfolio as an oil and gas company present in 35 countries around the world. The towers have a "bridge" between the 41st and 42nd floors known as the double-decker Sky Bridge. It is a glass platform that gives you a great view of the surroundings. All tickets include going up the towers, stopping at the Sky Bridge, and then heading over to the 88th floor where you get to the Observation Deck and basically see the city map at your feet.
CLIMB MENARA KUALA LUMPUR TV TOWER
Menara, which means "tower" in Malay, has a viewing deck that's 100 meters higher than the Petronas Twin Tower's Skybridge. You can get a great view by day, and by night everything looks like an entirely different landscape with the whole sparkling city center. The Skybridge is made out of glass so you will be able to see it all and take amazing pictures. Its primary purpose was to be used for communications infrastructure and its architecture was designed to reflect Malaysia's Islamic heritage as it has Arabic scripts, Islamic tiles, and archetypal Islamic floral patterns. On the upper floor there are three different viewing points for which you can pay individually or as a combination to visit. There is the indoor Observation Deck, the outdoor Sky Deck, and the Sky Box, which is a glass "box" that extends from the Sky Deck.
STROLL AROUND MERDEKA SQUARE
Merdeka Square, also known as Dataran Merdeka in Malay, is where the Malayan independence was declared. It holds one of the tallest flagpoles in the world with a height of 95 meters. During the British-rule era, the green lands were used as a Padang (field) for cricket. Around the Square you will find architecture reflecting Malay heritage such as Sultan Abdul Samad Building and St. Mary's Anglican Cathedral. A great way to learn about the Merdeka Square's history, the historic buildings around it, and main attractions (such as the National Museum and the Petronas Twin Towers) is by joining a tour. I recommend an organized tour – you can choose between joining a group or having a private tour around the city to learn the best facts about the attractions.
VISIT CHINATOWN AND SRI MAHAMARIAMMAN TEMPLE
Chinatown is an area that pretty much never sleeps, colorful and slightly bigger and more glamorous than KLCC and Bukit Bintang. The Oriental culture and history is in every corner of Chinatown and it is also a perfect place to find great bargains, go for the best Chinese herbs or just stop to see some imitation goods. By night, Petaling Street turns the entire city into a new place, more lively than during the day with a vibrant night market (Pasar Malam Petaling Street) and hundreds of stalls that have all kinds of foods at really cheap prices.
Sri Mahamariamman Temple was created as a place for worship for all the early Indian immigrants and became part of their cultural and national heritage. The extravagant decoration of the temple includes a mix of Spanish and Italian tiles and even some precious stones. While walking into the temple you will feel a sense of serenity from the cool floors and the positively charged air scented with flowers that transport you to a calm place. Among the decorations you will find about 228 Hindu idols all placed in different scenes from the Ramayana.
JOIN A KL SIGHTSEEING TOUR
Most of my travels start with walking around the city or taking the hop-on hop-off bus. Because it's the best way to see a new destination and get to identify the main attractions. Since not all places are at a friendly walking distance I went for a KL Hop-On Hop-Off bus – perfect for Kuala Lumpur sightseeing. There are two lines that take you around the most well-known Kuala Lumpur tourist spots. The red line stops at the main city center landmarks such as KL Tower, KLCC, and Aquaria, while the other line is mostly focused on the Gardens, which includes the National Palace, Merdeka Square, Bird Park, and more. To completely understand the stops, check your map before or during the bus ride and be sure to keep an eye on the clock so you manage to see all the sights you want. You can ride during the day on the double-deck bus, or maybe decide to go on a night-time tour bus. If you are not keen on Hop On Hop Off bus tours, I recommend opting for this half-day private tour instead.
TRY THE DELICIOUS LOCAL FOOD
There are many options of places to eat in KL, whether you are looking for local traditional food or you're in search of international dishes. Trying out some local food is definitely part of my list of what to do in KL, so here are some local dishes not to be missed, plus the best places to try each of them:
Nasi Lemak – this is among the most traditional dishes in Malaysia. It's basically rice cooked with coconut milk, usually served with eggs, fried fish, and some kind of curry. You need to try it so you can actually say you visited the country! Get the best nasi lemak at Charlie's Café & Bakery.
Ikan Bakar – this is grilled fish marinated in local spices, then wrapped in banana leaves and left to grill on charcoal. The dish is served with a side dish of hot rice, vegetables, and curry sauce. A great option for Ikan Bakar is at Kak Jat Ikan Bakar. You can also find one of the best dishes at Sambal Hijau Restaurant.
Roti Canai – this is a type of fried bread with a clear flatbread Indian influence. The dough is made with wheat flour, butter, and oil to make it fluffy and it is fried perfectly golden, then served with curry sauce! It is a popular snack and a great way to calm your hunger; you can have it plain or even find it with fillings such as egg, onion, or cheese. Get your best roti canai at Valentine Roti.
Char Kuey Teow – The local name means "stir-fried rice cake strips", and they are a favorite not only in Malaysia but also in Singapore. This dish has rice noodles, garlic chives, eggs, bean sprouts, and shrimp as main ingredients. If you like spicy food, add some chili sauce to the mix. Find this dish at Mamu Penang Char Kuey Teow.
Cendol – this is the most typical and popular dessert in KL. It looks like green worms but it's really sweet noodles made with rice or bean flour mixed with coconut milk and palm sugar syrup, all on top of shaved ice. Believe me, it sounds weird but the combination is pretty good, although a bit too much if you are not much of a sweet person. Try it at Grandmama's.
ENJOY A DRINK WITH A ROOFTOP VIEW
An amazing fact in KL is the impressive and beautiful skyline you get of the city every night and you will not know how to get the best view. Because of this you will find many bars and restaurants up on the upper floor or with rooftop access so you can enjoy a meal while having an awesome view.
Heli Lounge Bar
If you are wondering where to go in Kuala Lumpur for a drink with the best view this is one of my suggestions. I do recommend to arrive around 6 PM at the Heli Lounge Bar to secure your spot up at the helipad or at the lounge inside the building, on the 34th floor (two floors below the helipad). The magic of the Heli Lounge Bar is the 360-view on an entirely open and airy terrace, which surprisingly is used as a helipad by day.
Sky Bar
My other top recommendation is heading over to Sky Bar! This one is a fancier cocktail lounge on the 33rd floor of the Traders Hotel. This location has more of a nightclub vibe so you can enjoy the city view while sitting at a "cabana", sofa, or high tables around the SkyBar pool. The local DJs will spin the night with some techno music, jazz, easy listening, and even modern pop hits on different nights, but not so loud that you can't hear your friends' conversation.
SEE THE SULTAN ABDUL SAMAD BUILDING
Sultan Abdul Samad Building is located in Merdeka Square (no. 3 in the list above) and it was built to serve as the secretariat of the colonial British administration; then it housed the superior Malaysian courts before they all moved to Putrajaya. Although most visitors just admire the building exterior, you can also visit the inside for free. There are currently no formal guided tours offered but you can still ask at the tourist center information location, maybe it has changed since I was there.
LEAVE THE CITY AND VISIT BATU CAVES
As part of the most important places of interest in Kuala Lumpur, going to Batu Caves is a total must-do. Batu Caves are actually limestone hills with many caves and cave temples located in Gombak. Gombak is a district up north from Kuala Lumpur, only a 20-minute drive away. Batu Caves hold a 100-year old temple that has many idols and statues inside and around the cave. The decorations include additional limestone formations on the inside that are more than 400 million years old. You can follow the colorful steps (272) until you reach the heart of Batu Cave. As part of the Batu Caves you have the Cathedral Cave, which has many Hindu shrines under its 100-meter-high arched ceiling.
SEE THE IMPRESSIVE THEAN HOU TEMPLE
Thean Hou Temple is a large structure with more than six tiers and although it may look old because of the decorative facade, up close you can see some modern influences. The temple was used to worship Tian Hou, the Goddess who protected the fishermen, and Guan Yin, the Goddess of Mercy. Around the temple lands there is also a Chinese medicinal herb garden, a Boddhi tree, and a lovely tortoise pond.