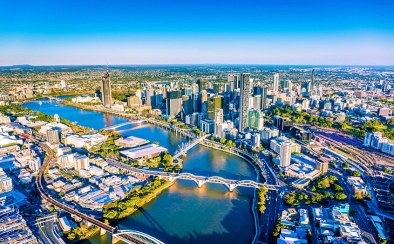 09 Top Tourist Attractions in Brisbane, Australia
09 Top Tourist Attractions in Brisbane, Australia

Brisbane, the capital of the Australian Sunshine State, is without a doubt my favorite Australian city and my home away from home. If you are wondering why I love the city so much, just check out this list with my favorite things to do in Brisbane. With an astonishing 283 days of sunshine a year, Brisbane is a wonderful place to live in and of course, to travel to. It is surrounded by the most beautiful places on the Australian East Coast and it makes a perfect base for day trips to the surrounding areas.
CHILL AROUND SOUTH BANK
You must know by now that when I say chill, I mean chill, walk, eat, swim, etc. This is because South Bank is such a versatile place that there are an infinite number of things to do there. It also has a little botanical garden called Epicurious Garden, where you can literally handpick your own herbs for free, extra useful when you want to save a few bucks. And it even has a free man-made beach that's open throughout the summer, a favorite for those looking for things to do in Brisbane with kids. Once you are in South Bank, there's no way you can miss out on the Wheel of Brisbane, their very own 60 Brisbane Eye. It is a splendid place to see a panoramic view of the city and its surroundings.
ADMIRE THE VIEW FROM THE TOP OF STORY BRIDGE
You may have already seen it in pictures, but let me tell you that one of the most famous Brisbane attractions is the heritage-listed and iconic Story Bridge. A twin of the Jacques Cartier Bridge in Montreal, Canada, this bridge lights up at night and makes for the best Instagram photos against the Brisbane Skyline. This 2-hour adventure tour takes you climbing up the bridge. During the tour you will get a 360º view of the city and get to learn about this iconic bridge's history! Not recommended for those scared of heights.
CHECK OUT ROMA STREET PARKLAND
Roma Street Parkland is Brisbane's own little lung, an astonishing 16 hectares of nature in the middle of the city center, its very own Central Park if I may say so myself. it's the biggest sub-tropical city park in the Southern Hemisphere; you can definitely go to this park several times and still not have seen it all. But isn't that the most exciting part. With plenty of opportunities to check out the local flora and fauna, this is definitely one of my favorite places to visit in Brisbane! Last time I was there, a possum chilled right next to me. Don't try to touch them, though, they can bite when disturbed.
GO SHOPPING AT BRISBANE'S CBD
Brisbane's CBD (Central Business District) is where the action is, Even though Brisbane has lots of different neighborhoods with very unique characters and vibes to them, the CBD is the one that is always lit.
ADMIRE THE AUSTRALIAN FLORA AND FAUNA AT BRISBANE CITY BOTANIC GARDENS
This is one of the most gorgeous places to go in Brisbane. One of the most surprising things you will notice once you get to Australia is their awesome wildlife, and because Brisbane is the "Tropical Capital", you're bound to see some cool stuff. Apart from this, visiting the Botanical Gardens is one of the most relaxing things to do in Brisbane.
HIKE MOUNT COOT-THA
If you are going to visit Brisbane, you have to check out Mount Coot-tha. What used to be the home of the Yugarapul Aboriginal people is now one of the most popular tourist destinations in Brisbane. Mount Coot-tha, or "Honey Mountain" consists of a 287m mountain with stunning views of the city. Once you're there, you can hike the bush trails, practice yoga at sunrise, or check out the Mount Coot-tha botanic gardens and greenhouse, which has a picture-perfect geometric dome. If you're the sporty type, there's no better way to see Mount Coot-tha than on this 10km running tour, during which they'll take you through the best running paths and on top of that, they'll make a detour and take you to the Mount Coot-tha summit.
GO ROCK CLIMBING AT KANGAROO POINT CLIFFS
Once you cross the Botanical Gardens you will find the Brisbane river in front of you. The Brisbane River or "Brown Snake", as the locals like to call it (Australians are great when it comes to nicknaming things!) crosses the city and ends in Moreton Bay. If you walk along the river to the left, you will be able to admire the beautiful sailing boats that have anchored at the Brisbane River which are, in my opinion, one of the most beautiful things to see in Brisbane. You will also see Kangaroo Point, a set of cliffs within the city where Brisbanites love to go climbing or have picnics – also a great spot to check out the Brisbane city skyline.
GO ON A RIVER DINNER CRUISE
If you'd like to check out the Brisbane skyline while having a world class dinner, you can book this Brisbane River Dinner Cruise. Enjoy the best live entertainment and Australian contemporary buffet menu on an elegant river cruise that travels through the Brisbane River, departing at 7 pm from Eagle Street Pier.
CHECK OUT LONE PINE KOALA SANCTUARY
If you'd like to see Australian fauna up close you can head to Lone Pine Koala Sanctuary. This is one of the most popular attractions when heading to Brisbane. If you can't head to Stradbroke Island to see them in the wild you can check this place out.