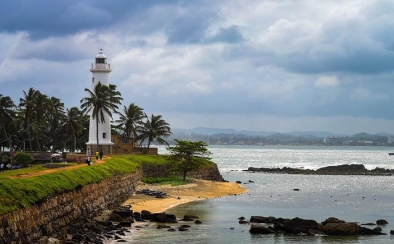 9 Best Things to Do in Colombo, Sri Lanka
9 Best Things to Do in Colombo, Sri Lanka
Heading to Sri Lanka? Congrats, that's a great choice If you decide to go, you'll most probably land and arrive in Colombo first, a vibrant city that is the capital of Sri Lanka.
Colombo is a very busy city, with a historic past and a rich culture. It's a bit chaotic at times and it's full of crowds, tuk-tuks, shops, churches, restaurants, luxury hotels, shopping opportunities and interesting architecture. There are beautiful Sri Lankan colonial buildings everywhere you look, with Portuguese, Dutch and British influences, and modern structures as well. Wondering what the top things to do in Colombo city are? During my 10-day adventure in Sri Lanka, I explored Colombo for two full days and now I'm able to offer you my personalized recommendations for what is worth visiting inside this exciting city.
SIMPLY WALK AROUND THE CITY
Walking around Colombo is definitely the best way to experience the authentic vibe of the city. For example, I recommend walking on Malwaththa Road. It's filled with life and also shops with bags, clothes, shoes, wood figurines, souvenirs and everything else you might imagine. The Colombo Fort area is another great choice to go to if you want to admire the beautiful colonial architecture. Galle Face Green is also a great spot for a walk.
TAKE A CITY TOUR
If you don't actually know what to do in Colombo or you're tired of walking around and want something more entertaining instead, I recommend taking either an open deck bus tour or a tuk-tuk tour. These are two of your best choices for Colombo sightseeing.
On bus tour you may see many interesting sights such as the Second World War Memorial, the Lotus Tower (tallest self-supported building in South Asia), the Old Parliament Building, the Town Hall, the Independence Memorial Hall, the Old Colombo Dutch Hospital, Dawatagaha Jumma Masjid Mosque and more. Basically all the well-known attractions in Colombo.
VISIT GANGARAMAYA TEMPLE
Located next to Beira Lake, Gangaramaya Temple is a Buddhist temple and actually one of the oldest and most important temples of Colombo. And it's very beautiful as well, I must add, so it's no wonder that it's one of the most famous attractions in the city.
Because this Buddhist temple is actually a great learning center for the locals, they also have an on-site museum with a large collection of old artifacts that I recommend you check out. Plus, you definitely can't miss the big, colorful Buddha located inside Gangaramaya temple. On a similar note, be careful not to miss one of the most interesting artifacts: the world's tiniest Buddha statue.
ADMIRE THE RED MOSQUE
The Red Mosque, also known as (Jami Ul-Alfar Mosque), is a gorgeous building and one of the oldest mosques in Colombo. It actually looks like no other mosque I have ever seen! The building is tall, with red and white patterns that are simply mesmerizing- you just can't miss it when walking around the streets. Trust me, you'll love it once you see it. Unfortunately, even though it's up high on my list of places to visit in Colombo, Sri Lanka, you can only admire it from the outside, as only Muslim people can go inside.
ENJOY A COCKTAIL ON A ROOFTOP BAR
At the end of our first day of exploring Colombo, we went to Vistas Bar on Move n pick Hotel and enjoyed some local Achcharu cocktails, their signature Sri Lanka-inspired cocktail (Rs. 990 / US $14).
Here are some other amazing rooftop bars in Colombo that you can try
CÈ LA VI – on top of The Kingsbury Hotel; they serve drinks and food
Ward7 – on top of Jetwing Colombo Seven Hotel; it has amazing views
Vu Resto-Bar – calm atmosphere; they serve drinks and food