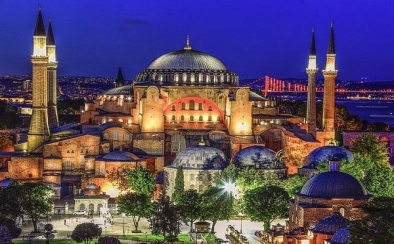 Best things to do in Istanbul
Best things to do in Istanbul
Hello from Istanbul where the two continents, Europe and Asia meet Get ready for a journey through history, food, and entertainment. For a quick entry, the historic part of Istanbul is called Golden Horn that is located on the European side and it is the place where you will find the famous historical attractions like the Blue Mosque and Mosque Hagia Sophia. Imagine yourself watching a whirling dervish in a mosque, having Turkish tea with a slice of baklava then taking a ferry between two continents and watching the spectacular Bosphorus views. This city will mesmerize you.
In this blog post on things to do in Istanbul, I will talk about the unmissable activities in Istanbul that can attract all kinds of travelers no matter if you're 7 or 70. For the famous museums and attractions, I highly recommend joining a guided tour and buying your ticket in advance to skip the lines.
EUROPEAN SIDE
Located on the west of the Bosphorus, the European side is the most popular part of Istanbul where you will find the historical peninsula, popular museums, and vibrant nightlife. Since most of the attractions are found here, it is also the most popular place to stay in Istanbul so while you will find that you'll spend the majority of your time here, that isn't to say that the Asian side isn't worth a visit.
VISIT A MOSQUE
Once you are in Istanbul, the first thing that will take your attention is the great number of mosques. Before entering a mosque you have to wear a long dress or pants and a T-shirt that covers your whole body. Women must also cover their hair with a scarf. In some of the mosques, they lend you a scarf but if not, you can buy one from a street seller that can be found in front of many mosques.
BLUE MOSQUE
A trip to Istanbul without a visit to the Blue Mosque would simply be incomplete. Completed over 7 years during the era of Ottoman Sultan Ahmet, the Blue Mosque (also known as the Sultan Ahmed Mosque) is a unique site and one of the most famous Mosques in the world. Once you enter the Blue Mosque you will be impressed by its tiles and gorgeous interior design but to get the most out of your experience, I recommend you join a guided tour that covers both the Blue Mosque and Hagia Sophia.
HAGIA SOPHIA
Another must-see mosque in Istanbul city is Hagia Sophia which was converted into a mosque from a church in the 15th century. Its unique architecture still keeps its mystery and I assure you will have the most unique photos while you are exploring Mosque Hagia Sophia.
ORTAKÖY MOSQUE
Ortaköy Mosque is one of the most picturesque mosques in Istanbul that is located right under the Bosphorus Bridge. This historic mosque was built in the 19th century and is a great representative of Ottoman architecture. Another beauty of it is that you can capture a photo of both the mosque and the Bosphorus Bridge at the same time.
DISCOVER ISTIKLAL AND TAKSIM SQUARE
There is no doubt that Taksim Square is one of the most popular spots on the European side and a great place to start your sightseeing. Taksim square is the entry point of the famous Istiklal Street that goes till Karaköy. Make sure to allow enough time to explore this colorful street where you will find so many shops, bookstores, cafes, restaurants, and famous nightlife. On Istiklal Street, you will also see the historical tram that operates between Taksim Square and Galata. These trams date back to the 19th century and have a small passenger capacity but are one of the iconic symbols of Istiklal Street. It is fun to walk along historical streets but for nostalgia lovers, I recommend taking a ride.
Here you will have the chance to taste so many local Turkish food and delicious desserts. Explore some stunning palaces If you are visiting the city of Istanbul, one of the must-see tourist attractions are Topkapi Palace and Dolmabahçe Palace. Palaces were where Sultans lived during the Ottoman Empire, so get ready to be impressed by the luxury of these incredible buildings.
DOLMABAHÇE PALACE
Located in Beşiktaş, Dolbahçe Palace was built in the 19th century during the Ottoman Empire and is a massive palace with 285 rooms and 43 salons, It does not only have impressive interior design but also offers amazing views of the Bosphorus. I recommend joining a guided tour to learn about the Ottoman Empire and explore the impressive rooms of the palace.
TOPKAPI PALACE
Topkapi Palace is for sure the most famous palace in Istanbul that you must definitely visit. You will be discovering where the Ottoman Sultans lived, their personal belongings as well as the famous 86-carat Spoonmaker's Diamond in Topkapi Palace.
GO SHOPING AT SPICE BAZAAR AND GRAND BAZAAR
GRAND BAZAAR
Grand Bazaar is one of the oldest markets in the world and is a huge bazaar where you will find numerous colorful shops selling souvenirs, carpets, and local flavors. This is the perfect place to grab some souvenirs from your trip.
SPICE BAZAAR
If you walk 10 minutes north from Grand Bazaar You will reach Spice Bazaar. As you can guess from the name, here you will find tons of local spices, local products, and souvenirs. You can also find a great selection of Turkish Delight here, something you have to try while in Turkey.
CRUISE ON THE BOSPHORUS RIVER
There are several cruise tours to discover the Bosphorus river that will enable you to see whole parts of the Bosphorus from the Marmara Sea to the Black Sea. You can join a cruise from Eminönü, Beşiktaş, and Kabataş on the European side, or Kadıköy and Üsküdar on the Asian side where you will see ticket booths for the various companies.
For many of them, you can hop off in one of the stops and have local food then continue the tour by taking the next ship. Alternatively, I think the best ones are the themed cruises that give you something a little bit special. You will usually need to pre-book these but why not enjoy a nice meal and a show to accompany the gorgeous views.
SUNSET CRUISE – If you want to enjoy the beautiful views at the most magical time, this sunset cruise on a luxury yacht with drinks included is the one for you. This cruise starts at 600 TL (US$57.10) and takes 2.5 hours departing from the Kabatas pier.
BOSPHORUS DINNER CRUISE & TRADITIONAL SHOW – For those who want to have fun, there is also an option to join dinner cruises with live music and traditional belly dance shows. From 600 TL (US$57.10) you get a 4-hour cruise including food and dinner as well as pick up and drop off from your hotel on the European side.
SEE A MINIATURE ISTANBUL AT Visiting Miniaturk is one of the most family-friendly activities to do in Istanbul. Here you will find 128 miniature versions of famous tourist attractions in Istanbul such as Hagia Sophia, Selimiye Mosque, Rumeli Hisarı, and Galata Tower.
SPEND SOME TIME IN NATURE
Since Istanbul is surrounded by concrete buildings, you might want to have a break and enjoy lush green gardens. Here are the best parks in Istanbul where you can chill and have a great time.
ATATÜRK ARBORETUM
Atatürk Arboretum which is a special botanical park with wood plants and trees is like an oasis in the desert for those who want to escape from the busy city life. In the Arboretum, you can take a walk in amazing nature and take wonderful photos.
YILDIZ PARK
The other beautiful park in Istanbul is Yıldız Park that stands in the middle of one of the busiest districts of the city, Beşiktaş. As soon as you enter the park, you are isolated from the traffic and crowd of Beşiktaş. Have a peaceful walk in the park, watch the squirrels and sit on a bench with a Turkish tea.