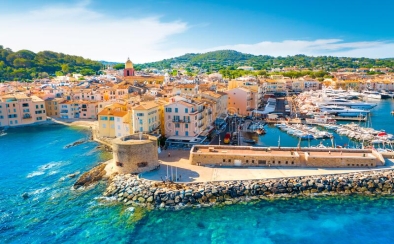 7 things to do in Saint Tropez, France
7 things to do in Saint Tropez, France
What comes first to your mind when you hear about Saint Tropez, You are probably thinking of celebrities, glamour, and yachts, exclusive clubs, etc. And it is true: the city has it all. But which are the best things to do in Saint Tropez, Let's find out.
Saint Tropez was different from all the other places I visited in Cote D'Azur: while Nice or Marseille are bigger, the wondrous little town of Saint Tropez is located inside the shoreline, which makes it a very secluded destination. With a population of less than 5000 people, Saint Tropez can be hardly called a town, it is more like a village. But not just any village – but a deluxe, fancy one. In the old times, Saint Tropez was just a simple fishing village, but over the years it has become a world-renowned seaside resort, a sophisticated destination for the wealthy and famous.
WALK DOWN THE PROMENADE OF THE OLD PORT
The Vieux Port is basically the city center, the heart of the town and one of the most popular Saint Tropez attractions, The port of Saint Tropez is full of tiny fishing boats, yachts, colorful houses and, of course, many chic cafés, so it is definitely worth visiting it. Sitting in one of the cafes at Saint Tropez harbor and simply people-watch can be quite an experience. You can take a walk on the streets and admire the paintings made by artists to soak up the atmosphere of the city. If you like to wake up early in the morning, you can go to Place aux Herbes at St. Tropez port, which is a market square where you can feel like a real French while buying flowers, fruits or veggies, Or you can see how the locals and restaurant owners buy fresh fish at Halle aux Poissons.
TAKE A BOAT TOUR OR HIRE A BOAT
In case you don't own a beautiful boat parked on some of the piers of Saint Tropez, no worries, you can actually rent one for a day. Even though this activity is quite pricey, it is definitely worth it if you are a huge fan of yachts – and St. Tropez is the best place to do it. If you are interested, you can find the price list for boat rental in St. Tropez here and here.Or you can take a 1-hour guided Saint Tropez boat tour around the area and you will be told about all the popular tourist sites: the Maritime museum, the Citadelle, the Baie de Canebiers and some celebrities' villas. In case you are a big group of people (up to 8 people), this private tour on the Gulf of Saint Tropez might be a great idea. If you are already in France and want to visit Saint Tropez by boat during one day, there are multiple tours that you can take from Nice or Cannes! More details about it below.
RELAX ON THE BEACH
This is definitely one of the most famous St. Tropez activities, The beaches in St. Tropez are marvelous and the water has a wonderful turquoise color.
Here are the best beaches I can recommend (they were recommended to me by the wonderful staff in my hotel):
Tahiti
Moorea
Plage de Pampelonne – probably the most famous St. Tropez beach and also the longest one (5 km!). The beach is well-known because Brigitte Bardot was here to film "And God created woman" in the 50s.
Plage des Canoubiers
Plage de la Ponche and Plage de la Fontanette – small and not that crowded
ENJOY THE VIEW WHILE SIPPING ON A COCKTAIL
Spending some time in the beautiful cafes and bars is one of the best things to do in St. Tropez. You can gawk at the yachts in the Old Port's cafes or enjoy the magnificent bird-eye view from Ermitage Hotel while sipping on a drink (an apéro, as the French call the drinks before dinner). Or maybe have a delicious dinner in Le Dit Vin restaurant. The choices are endless. While you are there, don't forget to enjoy your Dolce Vita lifestyle and look around – you might actually meet some celebrities.
CHECK OUT MUSEE DE L'ANNONCIADE
What to do in St. Tropez if you are already bored of laying on the beach, I recommend you visit Musee de l'Annonciade. The building (the old Chapelle Notre-Dame de l'Annonciade that was converted into a museum) dates back to the 16th century and the museum stores a rich collection of post-impressionist paintings. If you are an art-lover, please note that the collection includes Matisse (six works), Signac and Bonnard and many other artists that were living in Saint-Tropez at the end of the 18th century.
GO UP THE CITADEL
Saint Tropez Citadel has a very interesting hexagonal shape and guards the entire city from above! Its walls were built at the beginning of the 17th century and it is one of the best spots for Saint Tropez sightseeing. While you are there, you might also want to visit Musée d'Histoire Maritime, where you can learn stories about the maritime past of this beautiful city.
TAKE A WALK AT PLACE DES LICES
Place des Lices (also known as Place Carnot) is the place to go if you want to escape the luxury atmosphere and feel the old charm of Saint-Tropez instead. This is a city square located very close to the Vieux Port. If you have been to France before, you might be familiar with their famous game of pétanque (a ball game similar to boules). Well, this is the spot where Saint-Tropez locals gather to play pétanque and relax at Café des Arts.