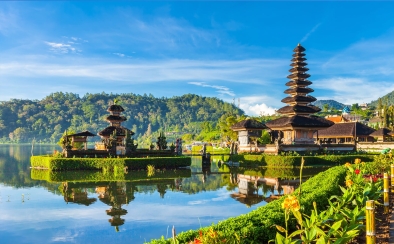 9 Unusual and Unique things to do in Bali
9 Unusual and Unique things to do in Bali
Ahhh, Bali, Indonesia. The very mention of this island conjures the image of a paradise quite different from what you might have seen before.
After exploring Bali's amazing temples and sunbaking at its many beaches, why not try some unusual things to do? Fall in love with some exceptional travel experiences that will take you to wonderfully bizarre abodes, to one-of-a-kind restaurants and to authentic Bali activities that you will not find anywhere else in the world.
SWIM WITH SHARKS
You've probably tried swimming with dolphins and turtles on other trips around Southeast Asia. Let's level up by swimming with sharks. One of the more unusual things to do in Bali include a swim with black and white tip reef sharks at the Bali Sharks Nursery where baby sharks are safe from illegal poaching or accidental entanglement in fishnets. It's right at the Agus Bar & Restaurant at Serangan Island, South Denpasar.
COOL DOWN AT WATERBOM
Your trip to Bali must include this heart-beating adventure. Get the thrill of your life in the widely acclaimed Waterbom theme park. It currently holds the number 1 spot as the best waterpark in Asia and an impressive number 5 among all waterparks in the world. These topnotch awards speak for this awesome attraction itself.
So gets your adrenaline pumping as you dare to ride some exciting waterslides. Mellow, moderate or extreme. The choice of the slide is yours.
VISIT SOME LOST PLANES
Some other oddities you can find in Bali are old planes, popping up on the side of the road, literally just lying around the island. One, which is really accessible, is an aged white Boeing 737 right in Jimbaran, casually parked in a yard. There is also another one in Kuta, which is rumored to be transformed into an eccentric restaurant and bar.
JOIN A LAUGHING YOGA SESSION
"Laughter is the best medicine", isn't that right? This common saying is the mantra of the eccentric yoga sessions in Ambar Ashram, a spiritual happiness retreat in Ubud. Laugh your socks off in these hour-long yoga classes.
EAT AT GARDIN BISTRO & PATISSERIE
If Cinderella, Snow White, and Sleeping Beauty had a restaurant in their fantasy world, Gardin Bistro & Patisserie would probably be it. Found among the lively scene in Seminyak, you will be in awe of its astounding chapel-like interior that seems to be out of a storybook.
The rustic furniture, stained glass decors, and beautiful garden add to its magical touch. This little bistro offers a mix of cuisines from around the world including Asian, British, French and Italian. Have some light snacks or a hearty meal of seafood. Gardin is also vegetarian-friendly. Its wide selection of desserts is just another reason to drop by.
SET YOURSELF FREE AT THE BALINESE MUD GAMES
If being knee-deep in mud is not quite enough for you, then set your inner child free in Bali's fun mud games. Mepantigan is a cultural game on the island of Gods where people simply go out to play in the muddy rice fields.
The Mepantigan traditional mud games are even more extensive and include eel or frog catching, mud horse riding, mud tug of war, Kecak body painting, mud dance, mud massage and more. Who would think that the icky mud has so much fun in store.
STAY AT VILLA LAKSMANA HIDEAWAY
Not much of a mud lover? Maybe, you prefer to be one with the water. Then Villa Laksmana Hideaway is perfect for you. Enjoy the exclusive pool adjacent to the villa units. The privacy and luxury of this place is absolutely remarkable.
And you'd think such private amenities are far from the city they are not. It's in a prime location centrally in Seminyak that is just a walking distance from trendy restaurants and upper-class shopping stores. Additionally, it's only a 15-minute drive to the beautiful cafés of Canggu and its very surf-able waves.
GET THE CHILLS AT GHOST PALACE HOTEL
What was supposed to be the PI Bedugul Taman Rekreasi Hotel & Resort is now better known as the Ghost Palace Hotel. What was a great beauty before is now just a mysterious shadow left of its bygone grandeur.
Although this abandoned hotel doesn't provide its real purpose anymore, a few brave-hearts and budding ghost-hunters still come to explore its slowly decaying buildings, infamous for the phantoms of laborers who were killed during the construction.
MIRROR LOUNGE & CLUB
For all you night owls out there, enter the high-end party scene that is Mirror Lounge and Club. It is located on the main street in Seminyak and just next door to Gardin Bistro. Its interior design is likened to that of an elegant Gothic cathedral. Imagine that with thumping music, neon lasers, and dancing bodies on the dance floor. This upper-class nightclub is a must for party lovers.