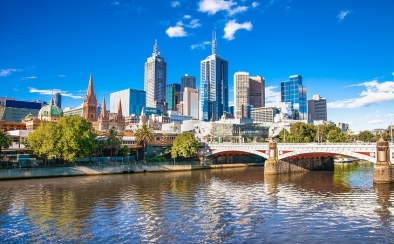 8 Amazing things to do in Melbourne
8 Amazing things to do in Melbourne
Melbourne, the cultural capital of Australia, is quite a popular destination for tourists from all over the world heading to the Down Under. For all those travelers looking for the best things to do in Melbourne, Australia's most "European" city, read on.
A hub for many interesting things including museums, vintage stores, coffee shops, art galleries, events, festivals etc., there is literally nothing you cannot do in this city. In order to share all the love that I have for this city, I have created this ultimate Melbourne travel guide that will take you through the best places to visit in Melbourne and have included some practical information at the end so as to help you organize your Melbourne trip more efficiently.
EXPLORE THE CITY CENTER
There are countless Melbourne city attractions to enjoy and see, and the smartest way to go about it is by taking one of the amazing Melbourne walking tours. Most walking tours take you through the city centre. I recommend checking out this 2.5 hour Melbourne city tour, in which a knowledgeable guide will take you through Melbourne's top sightseeing spots including Federation Square, Flinders Street Station and more.
HOP ON A TRAIN AT FLINDERS STREET STATION
Being the busiest suburban railway street of the Southern Hemisphere, Flinders Street Station is, out of all the places of interest in Melbourne, a must-see. While you're at Flinders Street Station, you can admire the beautiful yellow victorian building, explore its interiors and get lost going up and down the floors. On the third floor, there is an eerie old abandoned ballroom that is, unfortunately, closed for visitors. However, you can always take a leap of faith and kindly ask an employee to let you in. Finally, make sure to also check out Federation Square, which is just across the street.
EXPLORE QUEEN VICTORIA MARKET
This market was built in the 19th century and it has since become one of the biggest Melbourne tourist attractions; it's also a great place to get fresh produce.
TRY THE FAMOUS MELBOURNE COFFEE
Drinking it is one of the best activities to do in Melbourne! There are so many cafés in Australia's cultural capital that the chances of you not coming across one of them are almost non-existent.
BECOME AN ART EXPERT AT NATIONAL GALLERY OF VICTORIA
The National Gallery of Victoria displays a permanent exhibition of international art from all over the world that will only take you a couple of hours to see. They have some events from time to time as well, which you can also check on their website.
EXPLORE ST KILDA AND THE ICONIC LUNA PARK IN MELBOURNE
St Kilda is Melbourne's cutest neighborhood. With its historic buildings, seaside restaurants and cafés, beaches and exciting nightlife, St. Kilda is an awesome place for every traveler to spend a day and it can sometimes feel like a unique world on its own. St. Kilda is also home to Chapel Street – perfect for some entertainment, including shopping and events.
RELAX AT THE ROYAL BOTANIC GARDENS
Royal Botanic Gardens holds a place very close to my heart, as it is precisely where my brother and sister in law got married. Visiting the botanic gardens is one of my top things to do in Melbourne! While you're there, you can even see the Shrine Of Remembrance, a shrine commemorating World War. If you want to visit the city and the Royal Botanic Gardens with an organized tour, I recommend this one that takes 4 hours.
ENJOY THE VIEW FROM EUREKA SKYDECK
If you'd like to see the city from up high and marvel at its breathtakingly beautiful skyline, you can visit the Eureka Skydeck on the 88th floor of the Eureka Tower. Eureka Tower is a 300m skyscraper that was built in 2006. The view from the skydeck is one of the most stunning panoramic views and photo opportunities in Melbourne – you can actually see the Dandenong Ranges National Park.