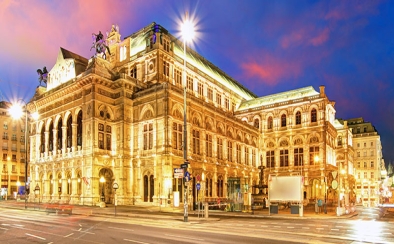 Vienna – 7 Unmissable Things
Vienna – 7 Unmissable Things
Do you love history and imperial sights and want to travel to a new cultural destination, while also having fun at the same time? Then Vienna, the capital of Austria, is a great option for you. The city has something to offer to any type of traveler, and to help out I will share with you some of the best things to do in Vienna below. If you are not sure about the destination and are asking yourself what is Vienna known for – there are many different ways of answering this, You may start with their cozy coffee houses or their impressive imperial sights but don't forget about their well-kept historical garden, their nice wine taverns and more. Now, without further ado, let me share with you the greatest tips on where to go in Vienna and which attractions to include for an unforgettable itinerary:
START YOUR TRIP BY VISITING ST. STEPHEN'S CATHEDRAL
St. Stephen's Cathedral is a great representation of Vienna architecture and a real landmark – you can find its silhouette on most souvenirs or as part of the most emblematic images of Austria.
TAKE A WALKING TOUR TO LEARN ABOUT VIENNA'S PAST AND PRESENT
Are you wondering about one of the first best things to do in Vienna, Austria after you arrive so you can learn as much as you can about Vienna's history. Joining a free 2-hour walking tour is the #1 and most popular activity because you get to walk around the streets like any local and see the most popular sights.
TAKE A RIDE ON THE VIENNA SIGHTSEEING BUS
A quick and easy method to see Vienna and its most important landmarks. You can choose between different routes and the bus tickets are valid for 24, 48, or 72 hours, and you can change routes as you please. There are many different companies, but I can recommend Big Bus Vienna, as they share their bus routes on the web so it is easier to know all the stops you'd go by.
VISIT THE RATHAUS CITY HALL
The Rathaus, also known as City Hall and located very close to Hofburg Palace, is one of the biggest and most monumental buildings among the Ringstraße, so you should definitely see it.
Another great attraction for visitors is the Rathausplatz, an important plaza in Vienna for its size and the singular designs of nearby buildings.
GO TO THE OUTSKIRTS AND ADMIRE SCHÖNBRUNN PALACE
You have probably heard of Sissi the Empress – well, this used to be her summer residence. If you have not, I do recommend seeing part of the trilogy of movies made based on her life before and once she became the Empress.
There are many options for the purchase of tickets, but I recommend the Classic Pass that includes an audio guide through the Schönbrunn Palace, a walk around the Privy Garden and the Orangery Garden, a view of the Gloriette, and some fun at the Maze as well! By the way, Schönbrunn has a zoo as well.
ADMIRE THE NATURE AT BELVEDERE GARDEN AND BELVEDERE PALACE
Belvedere Gardens are divided into 5 parts around the property. The main feature is the Belvedere Palace Gardens, followed by the Privy Garden, the Sculpture Garden, the Alpine Garden, and finally the Botanical Garden. And right next to the gardens is the Belvedere Palace, which can be visited inside as well.
SEE SOME ART AT ALBERTINA MUSEUM VIENNA
Albertina is a popular art museum located inside a palace with an impressive collection of artwork. There are permanent exhibitions of French Impressionists like Claude Monet, Paul Cézanne, Henri Lebasque, as well as temporary art exhibits from the Albertina collection. The museum itself has over 1,000,000 items that range from graphic arts and photography to even architecture.