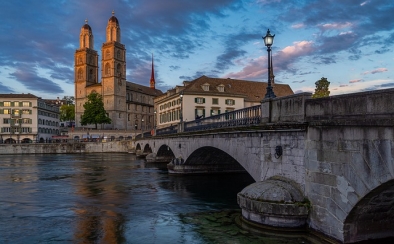 Best things to do in Zurich
Best Things to Do in Zurich
Built along the Limmat River, Zürich is the biggest city in Switzerland, even bigger than Geneva and Bern, the capital If you are looking for the best things to do in Zurich, keep reading and I'll tell you everything you need to know. In this Zürich travel guide, I am going to explain all the best spots to check out inside and outside of the city Zurich is such an amazing place where you can find great things to do and amazing places to visit such as churches, gorgeous medieval streets and the cutest cafés. Without further ado, let's learn about all the Zürich top.
DISCOVER THE OLD TOWN
Zürich Old Town (Altstadt) is located on both banks of the Limmat River and it's what is now considered District 1. The Old Town is home to the majority of the most beautiful sights in the city such as the town hall, different universities, beautiful little alleyways and cozy restaurants and cafés. Even though it's quite a small area, the best way to explore it and to never miss a detail would be by booking a tour. Just like in every city that is worth traveling to, Zürich has a fair share of tours that run through its loveliest streets.
CLIMB THE TOWERS OF GROSSMÜNSTER
This Romanesque Protestant church is part of the Evangelical Reformed Church and it was built at the beginning of the 12th century. They were buried in that exact spot. Some centuries later, the Roman Emperor Charlemagne's horse fell to its knees at the same spot where they were buried and he decided to build Grossmunster there. The twin towers are one of the most recognizable Zürich attractions and I definitely recommend going up them; you'll get an amazing view of Zürich from up there.
TRY SOME DELICIOUS CHEESE FONDUE
I'm somehow jealous of you because you will get to try fondue for the first time, and in the country where it was created. Fondue consists of a pot full of melted cheese that you can dip bread, any type of veggies and even apples into I know how hard it is sometimes to find traditional vegetarian meals in central Europe, but this is one of them. However fondues in Zürich are not only about the dish itself but also about the experience. You get to share it with your friends, which makes it extra romantic and fun. But remember, double dipping is not allowed. There are plenty of places in Zürich where you can try fondue for an average of CHF 30, but if you want to make the most of your experience.
STROLL AROUND VIADUKT
If you'd like to visit the new Zürich you have to head to West Zürich, and specifically to Viadukt. This is a hipster area of the city where you'll find alternative designer shops and a market hall. It's one of the favorite places among locals and tourists alike, such a unique and creative space. Located under the old railway Viadukt is perfect for those looking for unique fashion pieces or even to buy groceries
TAKE A CRUISE ON A LIMMATSCHIFFFAHRT BOAT
To see Zürich from another perspective, you can hop on a Limmat River cruise, which is commonly known as (unfortunately for us non-German speakers) Limmatschifffahrt. This boat ride is really quite affordable and a great way to explore the city from the water. Don't let the name deter you from having some fun while trying to make yourself understood by the locals. I recommend you head on this tour that takes you near the best and most beautiful landmarks in Zürich such as Grossmunster or Fraumunster, with a final stop on Lake Zürich.
CHECK OUT FRAUMÜNSTER CHURCH
Just on the other side of the river from Grossmunster, this church was built on the remains of a former women's abbey, hence the name, which translates to "Women's Minister". It is definitely a must-see during your Zürich trip. Make sure you admire the inside frescoes, the organ or even the stained glass windows they all give the church a very special and unique atmosphere.
TAKE A CABLE CAR TO FELSENEGG LOOKOUT TO SEE THE VIEW OF THE CITY
If you want to see Zurich from above like never before, Felsenegg is the place to be! It's located at an altitude of over 800 meters over the city, so it makes for the best lookout to admire the view of Zürich, the landscape surrounding it and the faraway mountains.
PROMENADE ALONG LAKE ZÜRICH
One of best spots in the city, this place is perfect for a morning run or a romantic evening stroll. You can, of course, go there by yourself and enjoy some relaxation, but if you only have a short time in the city and you'd like to roam around the lake, I have a solution. I found this 4-hour Zurich city tour that includes a cruise on Lake Zürich and even the cable car up to Felsenegg. Great combo.
HIKE UETLIBERG FOR A PRETTY VIEW
If you are into hiking, you also need to explore Uetliberg. Zürich's main mountain is only a train ride away and during your hike you will be able to admire the views of Zürich, the lake and, on a clear day, the Alps as well. This is quite an easy hike, so beginners can easily do it. I think it's a great idea after a day filled with cheese fondues and Swiss sausages.