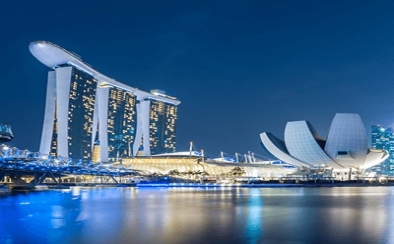 Best things to do in Singapore
Best Things To Do In Singapore
Singapore is, without a doubt, the most developed and urbanized country in Asia, if not in the entire world. I am sure you will feel that way, too, when you discover this unique country-city. In this article I have created a round-up of the best things to do in Singapore.
In case you want to travel to Singapore, continue reading in order to find out more about the best spots to visit while in Singapore as well as how to save significant sums of money on sightseeing and restaurants during your vacation.
In this article you will find out about what to do and where to go in Singapore, where to stay, as well as where to eat.
SUPERTREE GROVE LIGHT SHOW
The Garden Rhapsody is a show held in Gardens by the Bay every evening. The futuristic-looking Marina Bay Super Trees or "mushrooms" are lighted up in fabulous ways on the rhythm of the music. Every detail is perfectly tuned to create an atmosphere that will give you a fantastic feeling of wonder and stimulate your mind. Even if it is your second, third or tenth trip to Singapore, I definitely recommend you come back to see the Gardens by the Bay Light Show as they change the program pretty often and I truly believe this is one of those places to see in Singapore at least once in your lifetime. But the atmosphere was just as spectacular.
SPECTRA LIGHT AND WATER SHOW
The Marina Bay Sands Light Show is an amazing choreography of singing fountains and projections shown on their splashes, so this is one of those great things to do in Singapore at night. You will see that there are bubbles everywhere and you will be happy to know that this holiday atmosphere goes on every day, so make sure not to miss this attraction while in Singapore. This is also a great activity to add to your Singapore budget trip itinerary, as it is completely free to see it.
THE CLOUD FOREST
The Singaporeans have created a whole new concept called The Cloud Forest that includes planted walls and artificial waterfalls and it is something absolutely surreal. Even if you only have one day in Singapore, I think it is worth it to visit the Cloud Forest. While you are there, you can learn about rare plants, take some great pictures, enjoy a magnificent view of the Marina Bay Sands and just walk around this mysterious world built by man. The Cloud Forest also features a 35-meter high hill covered in lush vegetation, which is also the world's tallest indoor waterfall.
SINGAPORE BOTANIC GARDENS
The Botanical Garden in Singapore is such a beautiful park. You can wander on its alleys and get lost between the trees and the entire area full of endless variety of plants. There are 314 species of plants, 3 lakes, and 47 heritage trees housed in the Garden and I recommend you take your time to explore as much as you can.
The Botanic Gardens feel modern, fresh and ordered. Then, out of nowhere, you can just wake up with a huge Asian water monitor lizard in front of you. The entrance to the Botanic Gardens is free of charge and you should totally add it to your to-do list if you are spending time in Singapore.
HAW PAR VILLA
Haw Par Tiger Balm is one of those unique places that you will not see in a typical tourist picture of Singapore. This is one of the world's weirdest theme parks depicting scenes from Chinese folklore with the use of over 1.000 statues. Some of the statues you will see there are: an old woman being breastfed, demons pitchforking loan sharks in hell and many other strange things that you definitely won't forget. One of the highlights of Haw Par Villa is the "10 Courts of Hell", where the various punishments from hell are depicted. This is a truly fascinating place to visit during your stay in Singapore.I would set aside about 2 hours for the visit if you want to read some information about those mysterious statues, too.
HAVE FUN IN UNIVERSAL STUDIOS
Another great attraction of Singapore – Universal Studios amusement park – is also located there and This amusement park is one of the top tourist attractions in Singapore, as it is sooo amazing. Universal Studios Singapore on Sentosa Island is the perfect idea for things to do in Singapore with kids, as it will provide endless fun for the entire family. This is one of the most popular activities in Singapore and some of the attractions waiting you there include the world's tallest dueling rollercoaster, cute shows for smaller kids and more.
VISIT SENTOSA ISLAND
Sentosa is a super popular resort (and Universal Studios from my recommendation above is also located there by the way), but please do not expect a Bounty-commercial-type-of-beach from it. To be honest, Sentosa is far from the beauty of the Malaysian island of Langkawi for example. Otherwise, it is very alive and easy to access.
Walk above a real jungle at Mac Ritchie Treetop Walk
Are you wondering which are the best Singapore sightseeing places. The Mac Ritchie Treetop Walk is located in Mac Ritchie Reservoir and it features a beautiful 250m long bridge, 25m above the jungle. The bridge is not that long, but getting there requires you to hike to the reservoir, then go to the Treetop Walk using the Mac Ritchie Nature Trail or the Venus Drive.
Enjoy a chill evening at the Esplanade Roof Garden
If you would like to enjoy Singapore at night as well, you can go to the Esplanade Roof Garden in order to get an amazing nighttime view over Marina Bay Sands and the river.
You should definitely see Singapore at night when all the buildings are lit up and shining, otherwise, you won't get to truly experience this authentic city. This is also one of the most romantic things to do in Singapore for couples as well.
Where To Stay in Singapore
Luxury stay – Marina Bay Sands is the most famous and surely one of the best hotels in Singapore for luxury travelers, and it is definitely worth it for its stunning infinity pool. InterContinental Singapore – this elegantly decorated 5-star accommodation with an outdoor pool is one of the top luxury hotels in Singapore
Great value for money – Carlton Hotel Singapore this 5-star hotel can be surprisingly affordable if you book it well in advance! Alternatively, Hotel Bencoolen is even cheaper and has a mind-blowing terrace with Jacuzzi on the rooftop!
Budget stay – Adamson Lodge is one of the best budget hotels in Singapore when it comes to price and hospitality and it is located very close to everything you will need. If you are looking for affordable hotels in Singapore, my second recommendation would be Chic Capsule Otel for its chic decor and top location.
Where to eat in Singapore
Here are all of the popular local places advised by the lovely Denise from InterContinental who was born in Singapore:
Loof – one of the best (and not touristy) rooftop bars in the city!
Tess bar & kitchen
Ah Chew Desserts – for great Chinese desserts
Candlenut – a combination of contemporary and traditional dishes
Imperial Treasure Super Peking Duck – some say this might be the best Peking duck in Singapore!
Warong Nasi Pariaman – Indonesian cuisine