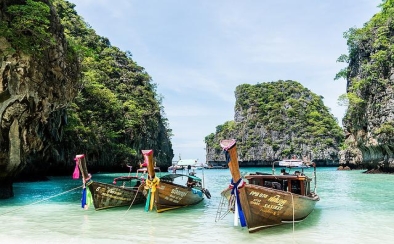 Awesome things to do on Koh Phangan
AWESOME Things To Do on Koh Phangan
Are you looking for things to do on the island of Koh Phangan, Thailand You are in the right place. In this article you can find the best things to do on Koh Phangan.
The first one I visited was Koh Phangan Island (or Ko Pha Ngan). It was the right choice as it appeared to be my favorite Thai Island. I stayed for enough days to make a compilation of the best things to do on Koh Phangan for you. I also selected a list of places to stay on Koh Phangan for all budgets. So, if you are thinking of going to Thailand soon or you are just curious about the activities you can do on this island Paradise Island, read on, this article is for you.
THONG SALA NIGHT MARKET
I decided to go and check this place out and here is what I have to tell you – the night markets in Thailand are something special and you should witness them for yourself, especially because this night market is one of the best things to see in Koh Phangan. People in Thailand simply love night markets – they are a part of their culture and, besides that, you can buy pretty much anything there.
So if you are searching for the perfect place to have dinner or a great spot to taste different traditional foods, the Thong Sala Night Market in Koh Phangan is the perfect place to go, as it is a food market full of countless delicious options, from traditional Thai food to falafel, noodles, sushi, pizza, and grilled fish. While you are there, don't forget to try some seafood dishes, everything is mouth-watering and fresh.
HERBAL SAUNA BAAN TAI
It is located here, right near the biggest tree on the island. And I don't just mean a big tree. This special tree has been there for centuries and it is more than 14 meters (42 feet) in diameter. If that doesn't mean anything to you, just picture it being wider than an average car. The Baan Thai Sauna was founded by the monks from Wat Pho Temple and is located in a nice garden. You can also have a massage there if you wish.
ADMIRE THE SUNSET AT AMSTERDAM BAR
There are so many great spots to enjoy the sunset on Koh Phangan, but the best one I found was at the Amsterdam Bar. While you are there, you can enjoy a breath-taking sunset while sipping your drink in the swimming pool. A DJ is playing in the background, and there is always a good mix of interesting people around. If you aren't able to make it to the Amsterdam Bar, another amazing place to see the sunset is Secret Mountain – a very good restaurant that serves local food. Go to the Secret Mountain in Koh Phangan during the evening to have a drink and eat some Thai food, then admire the sunset. Many photo opportunities included, of course.
HALF MOON PARTY
I am absolutely sure you heard about the world-famous Full Moon Party in Koh Phangan – after all, this monthly party is the main reason this island is so famous. You can find the dates for the Full Moon Party here. But what if you happen to miss the Full Moon Party because you won't be on the island during its dates No worries You can still attend a Half Moon Party.
The Half Moon Party in Koh Phangan has three stages for different types of music – funky, hip-hop and psy-trance, with many DJs and night-long fun. The Half Moon Party on Koh Phangan takes place every month, twice a month, so chances are good you will be able to join in.
CHALOKLUM BEACH
The reason I love it so much is because it is quite hidden and not touristy which is probably what I liked most about it. It is a quiet and serene beach with really warm water and really soft, white sand. The beach is located on the north of the island and is about 2km long. Chaloklum Village, a nice little fishing village, is located in the center so there will be no drunk tourists or loud music. That means you will have that emerald water all to yourself. Perfect place to go if you want an off the beaten track place to relax
MAKE SURE YOU DON'T MISS THE KOH PHANGAN WATERFALLS
Besides parties and many wonderful white sand beaches, the island boasts 7 waterfalls that are just waiting to be discovered. The waterfalls are actually some of the best Koh Phangan attractions so you should make sure not to miss them. Some beautiful and easily accessible waterfalls I can recommend are Paradise Waterfall (close to Chaloklum Bay), Than Sadet Waterfall and Than Prawet Waterfall (both of them close to Thong Nai Pan beach).